Good news Guardian's, Bungie recently patched the Dark Below with some new weapon and Raid tweaks, including fixing a strange bug where the new weapon the "Husk of the Pit" Auto Rifle only dropped in the Demo version of Destiny.
You can now find this weapon by slaying "Sword Bearers of Crota" that spawn on Earth and the Moon. This Unique weapon is unlike anything Bungie has released to date, in that it is 3 weapons in one. The weapon has 3 stages of upgrades each with a specific requirement to upgrade to the next stage.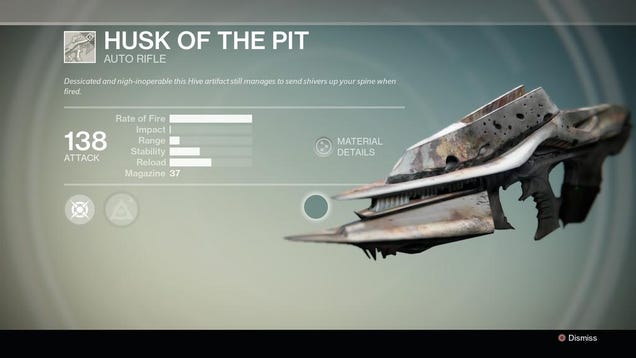 The first stage is "Husk of the Pit" a level 10 common weapon which can only be levelled up by the "Cannibalism" upgrade.
" The Husk exudes a sense of sinister satisfaction when used to expire it's former allies. "
The weapon will only progress by killing Hive instead of XP, and will need an Embalming Orb purchased from the vendor Eris Morn after you've earned enough reputation with her.
When finally upgraded the husk will transform into the "Eidolon Ally," a legendary Auto Rifle; The final upgrade to this stage is "Burgeoning Hunger."
"What power drives this appetite that grows after each meal?"
This time your going to need to run Crota's End on Hard, not an easy task. Since no one will, not until Hard mode is released next year. Crota on Hard will then drop a new rare crafting material "Crux of Crota" which is used to progress the Eidolon Ally to its final form.
The "Necrochasm" Exotic Auto Rifle. A shear beast of a weapon that makes all that grinding worth it. This is the only primary Exotic to do elemental damage in the game! It does Ark damage, aiming down sights makes it more stable and causes enemies to explode.
The process to obtaining this is the most interesting one that Bungie has come up with for an Exotic, and is a satisfying change from the roll of the dice with drops for usual Exotic's.  The challenge and journey will definitely be one to remember.
Here's hoping Bungie has some more weapons like this to come.
Please accept YouTube cookies to play this video. By accepting you will be accessing content from YouTube, a service provided by an external third party.
If you accept this notice, your choice will be saved and the page will refresh.
The easiest way to get one is to head over to the Fists of Crota mission on Earth. There you will find Crota's minions summoning a Sword Bearer every time you do the mission. You will have to go to Orbit as soon as you kill the Bearer if the Husk did not drop and restart the level.
Be warned this is an extremely rare drop and if like me could take several hours to obtain.